In this article, we take a look into the legal cost of not protecting your employees that work from height.
As work has developed and people have worked in various locations, at heights, and at times in dangerous situations.
It is critical that they be provided with the greatest working conditions feasible in order to ensure that your employee is protected when working from height.
The work itself is dependent on the location, but work from height work demands special protection.
The work is very dangerous and can cause fatal accidents if it's not done under secure circumstances.
When work has to be carried out on ladders, scaffolds or similar places where there isn't something that protects personnel then they might fall down.
When an employer fails to safeguard their employees from heights, not only do they put their lives at risk, but also those around them.
This can include those such as family and friends.
Falls from heights are one of the most common reasons for job deaths and severe injuries.
In fact, according to statistics released by the Health and Safety Executive (HSE), 144 people died at work in Great Britain.
With 26% of these fatalities caused by falls from height.
The work at height regulations 2005 is there to make sure that your employees work in a safe environment.
All work from height should be adequately planned and the risks assessed.
The work equipment should be checked and inspected before use.
All necessary protections provided to prevent falls from heights at work.
The Legal Cost of Workplace Injuries to Employers
Firstly, let's take a look at an official chart that HSE published on their website, showing the main kinds of fatal accidents for workers: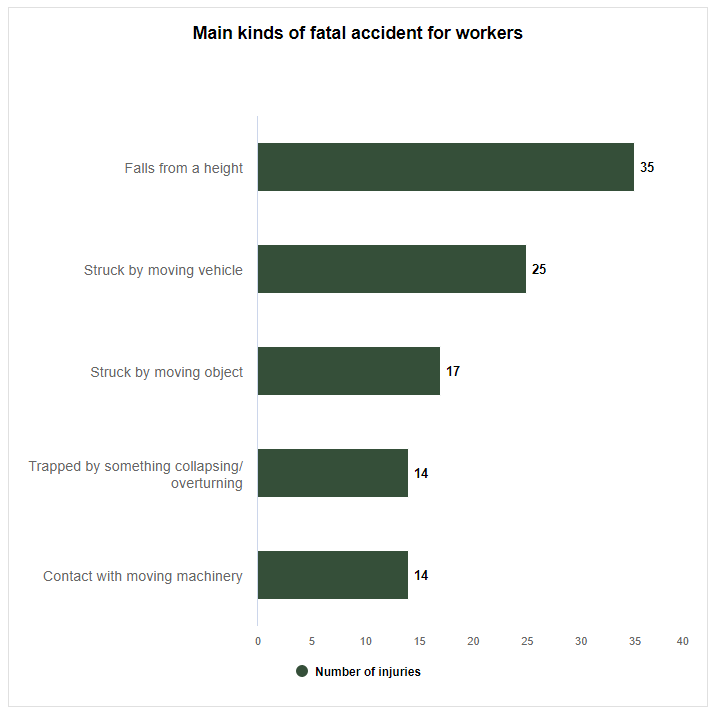 The expense of workplace injuries and deaths is extremely high for businesses and more specifically business owners.
Employers must be aware of the costs of medical care, rehabilitation therapy, lost production time and sick days that are associated with most workplace injuries.
If a worker believes their work accident was caused by their employer's carelessness, they might file a personal injury claim.
A claim for compensation can be expensive, both financially and in terms of time.
Serious claims might cost a business thousands or even millions of dollars.
According to the HSE, UK businesses paid out £5.2 billion in 2016/17 as a result of workplace injuries or fatalities.
For each workplace emergency, the average figure is 3.9 million days lost at work.
Every one of these days was a downer, with productivity and revenue all heavily impacted.
On average, 16.5 days are lost from employment as a result of an accident or sickness.
Based on a five-day work week, this equals to more than three weeks of lost productivity owing to an event.
It's possible to avoid this loss in productivity — as we'll further discuss in this article.
In certain circumstances, the cost to employers is solely financial.
However, the detrimental impact of an accident may be severe and long-term, depending on who is at fault and the size of a business.
Investigations, Fines and Prosecutions
The Health and Safety Executive is the national authority for health and safety in the workplace.
They conduct inspections, investigations, and enforcement actions.
Safety rules can be applied to various industries, from construction and transportation to health care and retail.
Businesses that are accused of violating safety laws may be prosecuted under a variety of safety legislation.
This can often be paired with hefty penalties and repercussions.
In addition to fines or prosecutions for work-related injuries and fatalities, claims on work accidents might be brought against employers.
Workers who believe they have been wrongfully penalised at work
What Do I Have To Do?
This is an important part of your company's image.
You must be sure that the work is planned, supervised, and completed by competent people with the competence, knowledge, and experience to do it effectively.
You must utilize the correct sort of equipment for working at height.
Take a sensible approach when considering precautions.
When it comes to preparation, low-risk, straightforward activities will need less effort than higher-risk ones.
There may be some low-risk situations where common sense dictates that no special precautions are required.
However, regardless of the scale of the project, to protect yourself it's essential that all measures are met correctly.
Dos and don'ts When Protecting Employees Working From Height:
Do's
Make sure fall protection instruments are in place before beginning work.
Ensure emergency evacuation and rescue plans.
Workers should be able to access heights safely and reach their workplaces.
From the ground, it is important to do as much work as possible.
When working on or near delicate surfaces, be cautious.
Provide fall protection from falling objects.
Ensure that the equipment you want to hire is suitable, sturdy, and safe enough for the task.
It's essential that it be maintained and checked on a regular basis.
Don't's
Rely on weak upper surfaces, eg glazing or plastics
Overreach on ladders or stepladders
Consider the equipment or materials that workers are carrying before working at height.
Check all equipment information and capabilities.
Anyone who is not competent (doesn't have the necessary knowledge, or experience to do the task) should not be permitted to work at height.
Ladders or stepladders should only be used for minor tasks that do not need to be completed quickly.
They should not be used for difficult or heavy activities, as they can cause serious injuries.
Examples Of The Legal Cost Of Not Protecting Employees That Work From Height:
In January 2017, Warburtons was fined £2 million plus costs of £19,609.28.
A worker fell nearly two meters from the top of a mixing machine while cleaning it and fractured his spine.
The HSE's investigation revealed that mixer cleaning and operating at height were not adequately supervised or trained.
Terrance Murray, a Manchester scaffolder, has pled guilty to breaching section 7(a) of the 1974 Health and Safety at Work etc Act after being charged under this legislation in Greater Manchester Magistrates' Court.
Murray had been photographing the city of Manchester from a scaffold at least 13 meters tall, with no edge protection for the scaffold or building, according to a citizen.
He was sentenced to 26 weeks in prison, suspended for a year, and 100 hours of community service; £500 in costs; and a victim surcharge of £115.
Above are just two examples of the endless amount of cases that have arisen in recent years.
Both from failure to abide by the safety measures that are required when working from heights.
Steps To Take To Help Protect Those Working From Height?
Before taking action, always weigh the risks for everyone who is at risk (collective protection) against those who are only affected (individual protection).
A fall arrest system is collective protection that does not require the person working at height to act in order for it to work.
An example of this would be the inclusion of safety fall pacs.
If you would like to learn more about the modern solution to protection of those who work at heights.
Visit Fall-Pac here (https://fall-pac.com)
And ensure your employees are protected at work.
Pieces of personal protection equipment are items that need the individual to act in order for them to be effective.
Remember that you have a duty of care to all people, so you should:
Take into account the weather conditions that might put employee safety at risk.
Examine the premises to ensure that they are safe for work at height.
Before each use the location of work should be inspected thoroughly.
Plan for emergencies and rescue; for example, agree upon a set procedure for evacuation (e.g. polystyrene and air pocket systems).
Consider the worst-case scenario and ensure that staff are informed about emergency procedures.
In your strategy, don't just rely on emergency services for assistance.
To Summarise: The Legal Cost Of Not Protecting Your Employees That Work From Height
If you would like any further information on equipment that could best suit your working at height plan, give us a call or browse the Fall-Pac website.
Simple and easy protection for both employer and employee.